The 10 Best Moving Services For Seniors
Posted by Pearson Cusack Real Estate Group on Thursday, March 9, 2023 at 3:09 AM
By Pearson Cusack Real Estate Group / March 9, 2023
Comment
We are sharing Caring.com's research results on the best moving services for seniors.
Caring.com is a leading senior care resource for family caregivers seeking information and support as they care for aging parents, spouses and other loved ones. They have been featured by AARP, The Administration for Community Living, The National Legal Resource Center, and Forbes, as well as referenced by many governmental agencies and organizations across the Internet.
How We Found The Best Moving Services For Seniors
37
Hours of Research
16
Moving Services Considered
42
Reviews Read
10
Companies Selected
Whether for retirement, downsizing, availability of quality senior health care, or moving close to family, relocating later in life has its fair share of unique challenges. When asked about the most stressful event in their lives, 45% of Americans claimed that moving is the most stressful – a more stressful event than getting a divorce.
From the exhausting packing to heavy lifting to hours of driving, the moving experience can be incredibly demanding for older adults. If you have a loved one who plans to relocate soon, hiring a moving service is your best bet for peace of mind. Fortunately, there's no shortage of moving services for seniors that can help your loved one make moving a less stressful experience.
With so many moving companies and storage services in the country, it's difficult to find the best one for your needs. To help you or a senior loved one find the right moving company, we rounded up the best moving companies for seniors with key information about their services, features, service coverage, and more key details, with a focus on companies that offer the best moving experience and services for seniors.
How We Chose the Best Moving Services for Seniors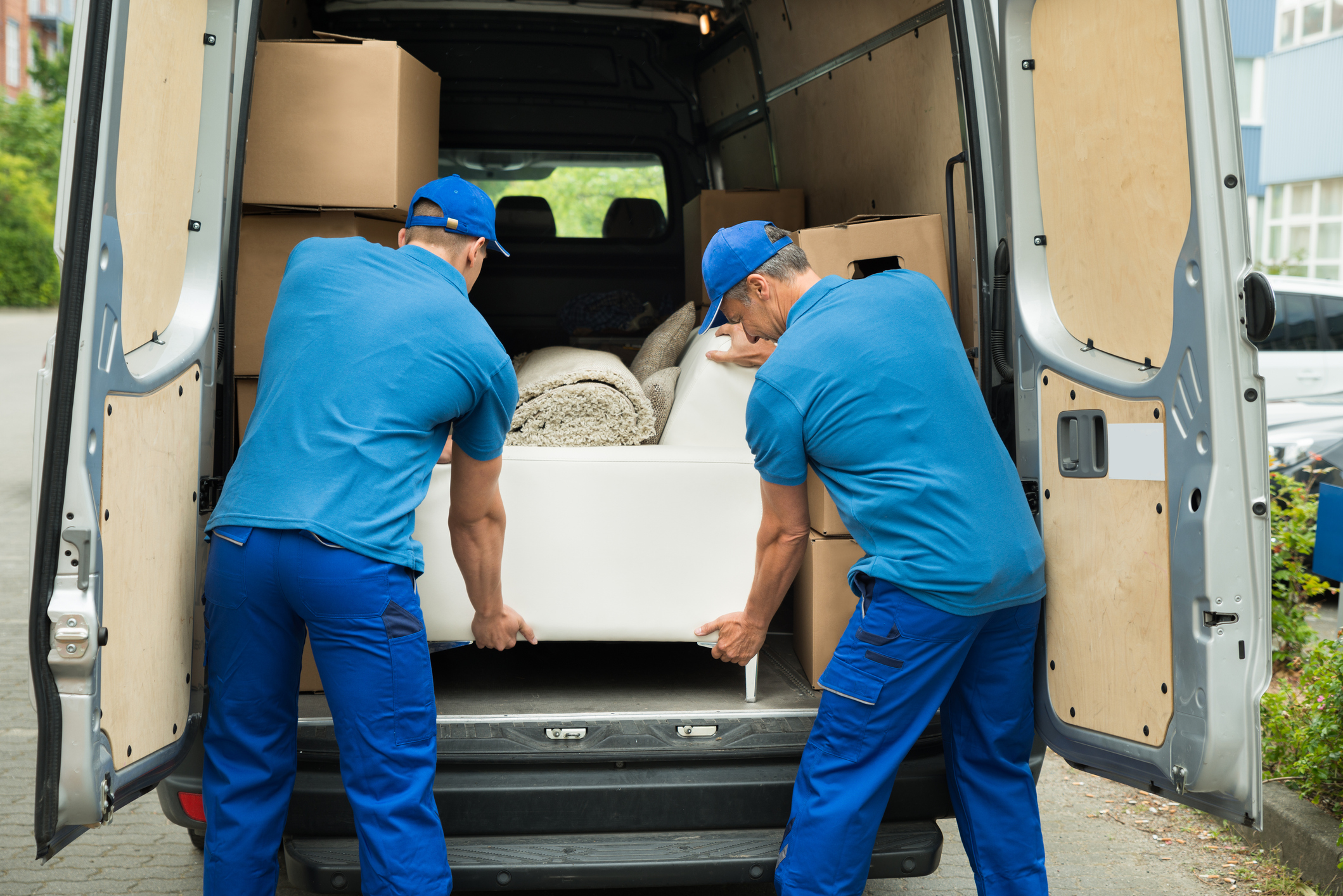 We reviewed 16 moving services across the country and narrowed our top picks based on the quality of the moving service, additional services, area of coverage, licensing and insurance, and reputation. We evaluated the final list of moving services for seniors using the following core metrics:
Quality Service Catered to Seniors: Aside from accommodating senior customers by offering discounts and insurance options, we looked for companies that can provide a reliable service with quality equipment, attention to detail, and excellent customer service.
Additional Services: We also considered add-on services while looking for the best moving company for seniors. Will they handle the packing/unpacking or furniture assembly or disassembly? Can they take special items like antiques, artworks, and wine collections? Do they offer an elevator fee or flight charge in case you're moving to a high residential building? Whether or not you want to use these additional services, the more options, the better.
Area of Coverage: Does the company only cater to local moves? What about if you want to move across state lines? What if you're moving out of the country? Knowing each company's service coverage will help you shortlist your options for moving companies.
Licensed and Insured: For the optimal moving experience, it's best to go for adequately licensed and insured companies. We only considered companies registered with the Federal Motor Carrier Safety Administration (FMCSA) and have a number assigned by the United States Department of Transportation (USDOT). Being a member of the American Mover and Storage Association is also a plus.
Online Reviews and Reputation: On top of service history and overall track record, we also check for customer reviews and feedback for each company. We also check their ratings from reputable third-party sites like Better Business Bureau (BBB).
The 10 Best Moving Services for Seniors
1. International Van Lines
Best Overall Moving Service for Seniors.
International Van Lines (IVL) is our top pick for the best overall moving company for seniors. It's a full-service moving company, but it also offers partial or self-service options for local and interstate moves. As a full-service company, IVL will take care of all the backbreaking work, including packing, furniture disassembly/assembly, and moving heavy and specialty objects (i.e., a grand piano and antiques).
Also, IVL is one of the few companies that published how its pricing works, which is a significant trust signal. If you want more accurate pricing, you can request a free quote straight from IVL's website. Aside from having a long history of serving seniors, IVL offers a 15% discount for senior customers, as explicitly stated on the website.
Pros and Cons of International Van Lines
Pros:
15% discount for senior customers
Offers full, partial, and self-service options
Wide range of optional moving services
Transparent and competitive pricing
Available in all states
Cons:
Mixed reviews from customers
Requires 25% deposit when booking via credit card
2. North American Van Lines
Best Customer Service.
North American Van Lines (NAVL) is our pick for the best customer support. It stands out as one of the few companies that offer 24/7 customer care. Once you book your move with NAVL, it will assign a dedicated personal moving assistant to your account. The assistant will help customize your moving plan, provide a quote, and answer all questions you may have.
As a full-service company, NAVL provides many household moving services, including packing, fragile-only packing, loading and unloading, storage, and furniture assembly. Best of all, members of the Senior Citizens League can receive discounts of up to 40 to 65 percent.
Pros and Cons of North American Van Lines
Pros:
27/7 customer service
Assigns a dedicated personal moving agent
Offers several insurance options
40%-65% discounts via Senior Citizens League
Has an online library of moving-related tips, FAQs, and videos
Cons:
Not for movers with tight budgets
Available agents are limited depending on location
3. Solomon & Sons Relocation Services
Best Moving Staff.
Solomon & Sons Relocation Services is an independent, family-owned business that has rapidly grown since 2014. This company is our pick for the best moving service that employs in-house staff rather than contractors. Besides its extensive experience helping senior movers, Solomon & Sons separates itself from the competition by employing an in-house staff of screened, trained, and licensed movers instead of hiring contractors for most of its operations. Plus, its service team is composed of movers that can speak Spanish, French, Hebrew, Russian, and more.
Solomon & Sons is a full-service company that offers a wide range of relocation services such as packing/unpacking, custom crating, vehicle shipping, furniture assembly/disassembly, and more – everything you need to relocate to a new home or facility.
Pros and Cons of Solomon & Sons Relocation Services
Pros:
Employs in-house staff rather than contractors
A+ BBB rating
Largely positive customer reviews
Offers custom crating for specialty items like arts, antiques, china, etc.
Comprehensive vehicle shipping solutions
Cons:
Quotes via phone or online can be inaccurate and are not guaranteed
Only available in 42 states
4. Allied Van Lines
Best for Vehicle Shipping.
Allied Van Lines is one of the biggest moving services in the country and our top pick for vehicle relocation services. Unlike other companies that use third-party auto shipping services, Allied provides this service directly using its own moving staff and trucks with GPS tracking. If you own many classic/antique cars, boats, and recreational vehicles (RVs), Allied Van Lines is a great choice to ship them safely. Bundling vehicle shipping with your moving package can save you a lot of money.
Allied handles local, interstate, cross-country, and international moves. It also offers full-service options, including packing/unpacking, loading/unloading, assembly/disassembly, and free 90-day storage for in-transit items.
Pros and Cons of Allied Van Lines
Pros:
In-house auto shipping with GPS tracking
Free 90-day storage and available permanent long-term storage
Uses GPS tracking on all shipments
Good selection of insurance options
A+ BBB rating
Cons:
More expensive rates than competitors
The claims process can be difficult
5. Moves for Seniors
Best Senior-Specific Moving Service.
Moves for Seniors is not just a moving company but a service-driven organization that exclusively caters to the senior community. It offers various service packages with personal touches, from labor-only (i.e., loading and unloading the moving vehicle) to full concierge-style services where a dedicated facilitator handles every detail of your relocation. For the senior facilitator package, you'll have one manager in your originating city and one in your destination. In addition, Moves for Seniors can help with downsizing by sorting your belongings for organizing, charity, and disposal.
Another feature that makes Moves for Seniors stand out is its Legacy Services. If you're mourning the loss of a loved one, insured partners will help pack treasured belongings and family heirlooms they left behind. Then, you can choose which items will be relocated, donated, sold via auction or yard sale, or properly discarded.
Pros and Cons of Moves for Seniors
Pros:
Wide range of senior-specific services
Will assign a facilitator for full-service moves
Has locations in every state except Alaska
Assists with downsizing by selling or discarding unwanted items
Unique Legacy services
Cons:
Requires a contact number for quotes
Limited optional services (e.g., no vehicle shipping)
6. JK Moving Services
Best for Long-Distance Moves.
JK Moving Services is an award-winning company that offers local, long-distance, and international moving services. Although JK Moving accommodates local moves, it's only available for Maryland, Virginia, and Washington, D.C residents. The main selling point of JK Moving is its long-distance residential moves. JK Moving Services boasts a fleet of GPS-equipped trucks and a nationwide network of carriers to ensure a stress-free long-distance move. Plus, it offers climate-controlled storage facilities with 24/7 video surveillance if you require a temporary storage solution.
In addition, JK Moving lets you customize a moving package that best fits your needs and budget, whether partial or full-service. While it's not the cheapest moving service out there, the available 0% financing should help offset the higher rates.
Pros and Cons of JK Moving Services
Pros:
Highly customizable service packages
GPS-enabled shipments
0% financing available
24/7 live customer support
User-friendly mobile app
Cons:
Local moves are only available for Maryland, Virginia, and Washington D.C. residents.
High prices
7. Safeway Moving Systems
Best Pricing Policy.
Safeway Moving Systems is a veteran-owned and well-established broker focusing on long-distance moves. Although it doesn't have local and international service packages, Safeway's long-distance moves are customizable with available add-ons like full packing, loading/unloading, piano transport, and furniture assembly/disassembly. However, what makes Safeway different is its heavily promoted binding quotes with no hidden or extra fees. But you have to keep in mind that it could take days and numerous back-and-forth with an agent to receive the final estimate.
Safeway also has a price match or beat policy. If you can get a written, binding quote from a reputable competitor (at least five years in the business) of Safeway, it will match or even beat the competitor's price. Furthermore, Safeway has a Retirement Advocate program where seniors receive a 5% discount on their moves.
Pros and Cons of Safeway Moving Systems
Pros:
Binding quotes without extra fees and hidden costs
Price match or beat policy
Free storage solutions
Positive customer reviews
5% discount for seniors
Cons:
Long-distance moves only
Quotes may take a long time to complete
8. United Van Lines
Best Full-Service Package.
United Van Lines is one of the nation's largest moving companies with a full-service package that will ensure a stress-free relocation for seniors. Among the companies we reviewed, United Van Lines offers the most comprehensive full-service plans, including packing (full and partial), storage, debris cleanup, auto transport, tech installations, specialty items, and furniture placement. It also assigns a personal move coordinator to ensure that everything goes smoothly.
Technology installations are convenient for seniors who may not be tech-savvy enough to set up a home computer or mount and configure a TV. United Van Lines handles local, long-distance, and international moves and has over 500 locations all over the country.
Pros and Cons of United Van Lines
Pros:
Comprehensive full-service packages
Full-service options come with additional valuation protection
Available technology installations
Online tracking and shipment updates
Offers a full range of insurance options
Cons:
Complaints about customer service since some services are brokered to third-party companies
More expensive than the competition
9. U-Pack
Best Budget-Friendly Option.
Unlike most moving companies we evaluated, U-Pack is the only self-service company in this guide. Self-service means you're responsible for loading/unloading your items to a trailer or container or paying a third party to get the job done. After receiving a quote and deciding on a delivery date, you can either get a space on a trailer or the more economical metal containers known as ReloCubes. You'll have up to three days to load the trailer or container. Then, a driver will come to pick up your trailer or ReloCube and deliver it to your destination. Upon arrival, you'll have another three days to unload your belongings.
U-Pack is a much less expensive alternative to full-service moving companies. It is especially ideal if you only have a few things to move or family members to help out with packing and loading/unloading. Furthermore, U-Pack charges by space occupied, so you only pay for the space you actually use within the container.
Pros and Cons of U-Pack
Pros:
Nationwide availability
A less expensive alternative than full-service companies
Only pay for the space you use
Multiple container sizes available
Offers packing supplies at a cost
Cons:
Requires 100 or more miles, so local moves are out
Larger trailer container can be tough to park and load
10. American Van Lines
Best for Safe and Secure Storage.
American Van Lines (AVL) is a full-service company with a lot going for it – local, long-distance, international moves, and full-service options. AVL promotes its flat pricing system, which lets you pay one flat fee, even with all-inclusive services. AVL also employs in-house service operators and movers, so you don't have to deal with third parties. Cost-wise, you'll know the exact price to expect and have more peace of mind during the relocation process.
AVL also has one of the best storage facilities out of all companies we reviewed. It offers climate-controlled storage units with 24/7 surveillance to ensure your belongings are safe and secure. Whether you're looking for short or long-term storage, AVL is a solid choice.
Pros and Cons of American Van Lines
Pros:
Climate-controlled storage units
Flat rate pricing and binding quotes
In-house service representatives and movers
Offers price matching
Certified in handling specialty items like fine arts, antiques, and piano
Cons:
No online quotes
Steep upfront deposits
How to Choose the Best Moving Service for Seniors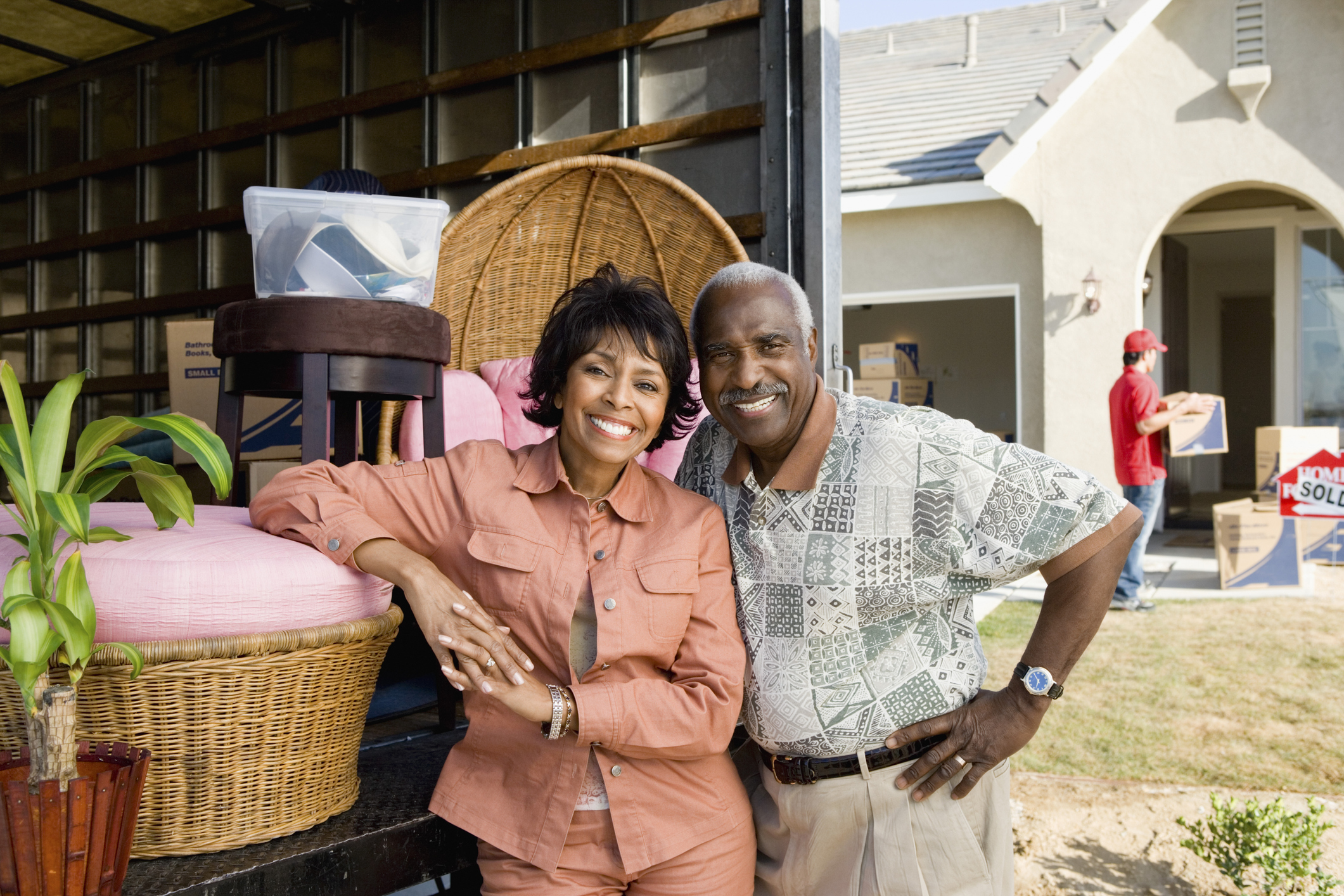 The most common complaints against moving companies include lost/stolen/damaged items, substandard service, and unexpected charges. To avoid these issues, you'll want to vet your potential movers. To ensure you're hiring a reliable moving service for seniors, consider these tips:
1. Check for Credentials
One of the best ways to avoid scam moving companies is to verify their credentials. You must ensure they have the proper license and certification to provide service. For starters, a moving company must have a number issued by the United States Department of Transportation (USDOT). This number acts as a license for commercial vehicles that haul cargo in interstate moves.
The USDOT number of a company should be published on its website and in advertisements. For example, International Van Lines has a USDOT# of 2293832, which is easily looked up on its website. In addition, also consider hiring movers registered with the Federal Motor Carrier Safety Administration (FMCSA) and American Moving & Storage Association's ProMover program.
We highly recommend using the FMCSA website to check the registration status of the company to the agency. It's also an excellent resource for researching a moving company since it contains vital information such as USDOT number, principal office address, fleet size, complaint history, and more.
2. Get Several Pricing Quotes
Comparing quotes from multiple different companies can help you establish what a fair market price is for your move. A good rule of thumb is to request price estimates from at least three different companies, either online, over the phone, or in person. Most companies will survey your inventory of belongings to provide an accurate appraisal. Some will even visit your location for an in-person survey and provide on-site estimates.
Be wary of unusually low estimates or companies offering quotes without sending a representative to scope your inventory. Furthermore, look for companies that offer binding or guaranteed estimates to ensure you're only paying for the initially quoted amount and not a dollar more.
3. Read Lots of Customer Reviews
Customer reviews are a great way to kickstart your research process. After all, if many customers have a positive experience with a particular company, there's a good chance you'll have a similar experience as well. See what people have to say about the company by searching the company name with terms like "reviews" and "complaints." Trusted websites like Google, Yelp, and Better Business Bureau (BBB) are excellent places to read reviews by actual customers.
Like all businesses, you'll likely encounter negative reviews of the company. Don't let that immediately dissuade you because it matters how the company responds to unfavorable feedback. The best companies will respond to negative reviews because they know it's an excellent way to learn from the customers and establish goodwill. Also, note if the company has taken action to resolve the issue.
4. Consider the Customer Service Quality
A company's customer service quality can make or break your moving experience. You'll want to hire a senior moving company with customer support that you can quickly get in touch with. When choosing a prospective mover, ask how they will reach out, how often they will call, and what information they will provide with each update. It's also vital that they maintain open lines of communication with movers, drivers, and other people involved with the move.
Some companies will make this easy for you by providing a dedicated moving agent or facilitator. This makes communication a lot more accessible since you'll only have to deal with one person rather than a different call center agent each time.
5. Be Wary of These Red Flags
One of the worst things that can happen to a senior customer is to fall for scam movers or just downright dishonest companies. Scam companies will take your money without completing the move or hold your belongings hostage for double or triple the initial price. This highlights the importance of hiring a well-known and reputable moving company instead of a random listing on Craigslist.
Avoid companies that require cash payment or a large deposit upfront. In cases like high-volume areas or peak moving seasons, some larger companies will require a deposit to save the move date. However, cash payments and large deposits are one of the most significant telltale signs of a scam.
Another red flag to keep an eye on is if the company provides an unusually low quote. This is a common tactic to get you into a bait-and-switch moving scam where they'll give you a seemingly attractive low initial quote but demand an excessive amount upon delivery.
Lastly, be very cautious of signing a blank or incomplete contract (sometimes called "order for service"). The contract should have clear language and contains essential information like agreed-upon costs, fees, liability coverages, etc. If some contract sections are left blank, don't sign them!
Next week, we'll be sharing what you need to know about senior moving scams in part 2 of Caring.com's research.